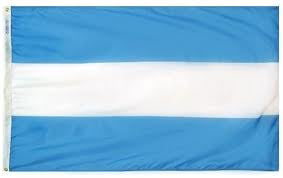 Argentina Courtesy Flag 12" x 18"
---
When sailing into Argentina show honor with a courtesy flag manufactured by Annin Flagmakers, America's oldest and largest flag maker.   12" x 18", courtesy flags are made of durable seaworthy nylon, designed to withstand the damaging effects of sun, wind and salt water.  Finished with canvas heading and solid brass grommets.
Argentina Flag Meaning - There are two theories as to Argentina's flag origin.  One theory is that the colors represent the Bourbon Dynasty of Spain, as Spain colonized Argentina in 1516.  The second theory states the blue represents the Rio de la Plata (River of Silver) and the white symbolizes the metal silver, as the word Argentina originates from the Latin word 'Argentum' which means silver.  Early conquerors thought there were large quantities of silver hidden in Argentina's rivers.
---
Share this Product
---
More from this collection